WaterGrip Products
Your plants are hungry for a WaterGrip™ Brownie…
Each WaterGrip product is comprised of traditional organic mix ingredients (coconut coir) combined with proprietary properties to create its hydrophilic matrix of macro and micro pores with superior water, air and nutrient holding capacity. WaterGrip products are infused with nutrients, hormones, and beneficial bacteria for optimal root and plant protection and development. WaterGrip products have a high cation exchange capacity which allows these ingredients to be held but readily available to the roots. WaterGrip products are very stable and maintain their porosity over time and exhibit only the most minute, virtually negligible, compaction or decomposition over the long term. WaterGrip products promote rapid, optimal root penetration to quickly stabilize plants, help them grow faster, and ensure long term plant health with a minimum of care.
Visit About WaterGrip Media for more features and benefits of WaterGrip Growing Media
WaterGrip Growing Media is offered in the following lightweight, easy to handle, formed shapes;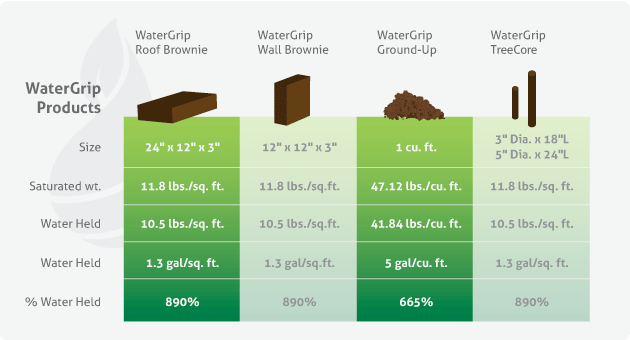 WaterGrip Growing Media Brownies:
WaterGrip Brownies are 3" thick – are ideally suited for green roofs or living green walls and also appropriate for landscaping and plantscaping use.
Plants can be rooted directly into WaterGrip Brownie (ideal for green roof or living green wall media)
WaterGrip Brownie can be also be used underneath a planting mix where roots will quickly seek the WaterGrip Brownie which acts as a water, air and fertilizer holding sink tank (ideal for landscape and plantscape use).
WaterGrip Self-Irrigating Living Wall System is an option for those desiring a turn key living green wall system
WaterGrip Growing Media Ground-Up
The ground version of our stabilized media Brownies
For amending soils and soil mixes when superior growing performance and enhanced
resource management is desired.
Ideally suited for expansive landscape use, commercial growing, container plantings and beds.
WaterGrip Growing Media TreeCore

Use TreeCore for transplanting and rejuvenating existing trees – reduces transplant stress.  Our TreeCore eases installation and reduces maintenance with no expensive equipment needed. It allows roots to grow into the site soil which allows the plants to acclimate into its natural surroundings which lessens the dependency on other inputs
Hydrophilic media enables enhanced water management and reduced water use. Its exceptional water holding capacity enables more water to be held with rapid rooting quickly stabilizing trees.
Ready access to water, air and nutrients supports lush trees. A high Cation Exchange Capacity enhances nutrient availability. Increased transportation of nutrients supports healthier foliage which captures sunlight and carbon the fuels plant soil life.