Green Roofs
Rooftop plants thrive in a lighter weight media enabling superior stormwater management.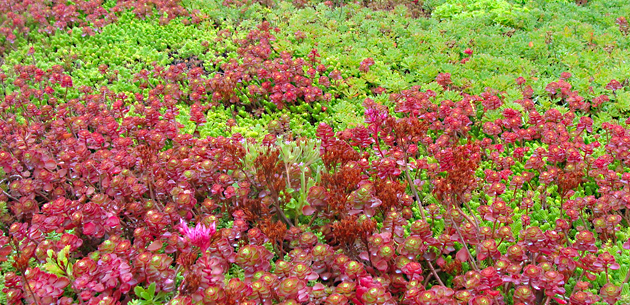 Green Roof Grown in WaterGrip
Benefits of WaterGrip™ Growing Media for your Green Roof
Water­Grip Grow­ing Media enables supe­ri­or plant per­for­mance while con­serv­ing pre­cious water. Using Water­Grip is about grow­ing more on your rooftop with less wast­ed water, less ener­gy, less labor, with less time. No mat­ter where you are plan­ning a green roof — Chica­go, Toron­to, Wash­ing­ton, D.C., New York, San Fran­cis­co, or any­where — Water­Grip is the solu­tion for all green roofs.
Water­Grip™ Grow­ing Media deliv­ers a tech­no­log­i­cal advance in green roof­ing media that will help to max­i­mize the vast array of envi­ron­men­tal, social and eco­nom­ic ben­e­fits a green roof can pro­vide. Water­Grip Grow­ing Media tru­ly changes the par­a­digm for rooftop grow­ing media – deliv­er­ing a "true" grow­ing media in which plants thrive rather than sur­vive, while improv­ing rooftop water man­age­ment with a lighter weight green roof media solution.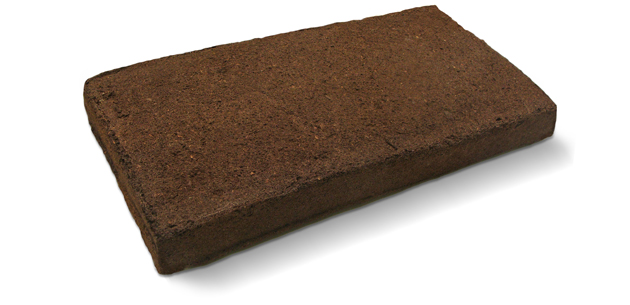 Lightweight Media Eases Installation, Reduces Roof Loads:
Easy-to-han­dle "brown­ies" deliv­er labor sav­ings dur­ing installation
A ful­ly sat­u­rat­ed 3" thick Brown­ie weighs only 11.8 lbs./sq. ft.
Deliv­ered ready-to-plant (or pre-planted)
Works equal­ly well in Inten­sive and Exten­sive green roof systems
Easy to install — lay just like tile — ide­al for sloped or retro-fit installations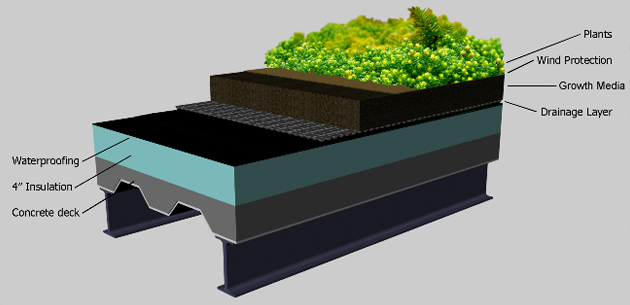 Rapid Absorption and Exceptional Water Holding Capacity provides Incomparable Rain Water Management:
Water­Grip Brown­ies hold up to 8x their dry weight in water – a 3" thick Brown­ie holds up to 1.3 gallons
of water per sq. ft. or the equiv­a­lent of ~2.4" of rain­wa­ter falling on its surface
Encap­su­lates fertl­iz­ers just as it does with water, serv­ing as food stor­age reser­voirs in the soil
Dra­mat­i­cal­ly reduces, delays and fil­ters storm run-off
Sup­ports a broad­er palette of plant material
Main­tains poros­i­ty so roots breathe even when media is ful­ly saturated
Water flows through media when ful­ly saturated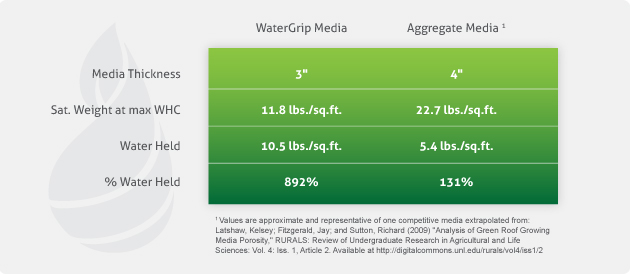 Advantages of a Superior Growing Media for Robust Rooftop Plantings:
Pro­vides roots with ready access to water, air, and nutri­ents to reduce plant stress
High cation exchange capac­i­ty pro­vides high nutri­ent and fer­til­iz­er holding
and avail­abil­i­ty and main­tains this abil­i­ty over time
Sta­bi­lized media main­tains poros­i­ty over time and does not compact
Rapid and opti­mal root pen­e­tra­tion ensures more plants sur­vive ini­tial planting
Robust growth speeds and improves roof coverage
Health­i­er plants reduce plant replace­ments and main­te­nance needs