Exterior Landscaping and Trees
Plants thrive with superior water management
and fewer call backs.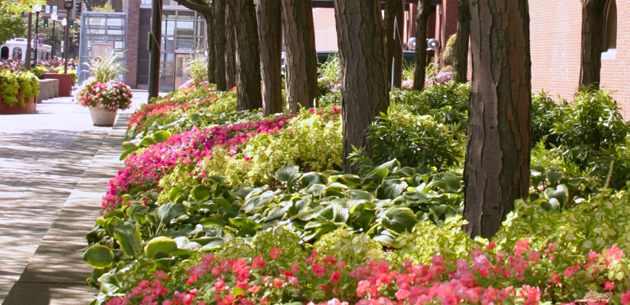 Benefits of Selecting WaterGrip™ Growing Media for your Exterior
Landscape Installations
Your instal­la­tion and ongo­ing per­for­mance depends on the right soil and prop­er water man­age­ment. Water­Grip Grow­ing Media Ground-Up amends and enhances your soils per­for­mance to pro­vide supe­ri­or water man­age­ment while also deliv­er­ing a grow­ing media designed to grow thriv­ing plants with reduced main­te­nance requirements.
Incomparable Water Management:
Supe­ri­or cap­il­lary action pro­motes excel­lent water distribution
Excep­tion­al water hold­ing capac­i­ty max­i­mizes use of water inputs and reduces runoff
Reduces water­ing fre­quen­cy and over­all use to low­er water expenses
Main­tains poros­i­ty even when ful­ly sat­u­rat­ed to avoid over watering
Ready Access to Water, Air and Nutrients Supports Robust,
Healthier Plantings: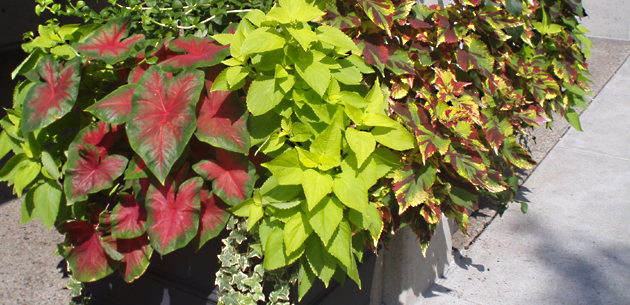 High cation exchange capac­i­ty retains and makes infused nutri­ents read­i­ly avail­able to decrease fer­til­iz­er needs
Rapid root growth and opti­mal pen­e­tra­tion pro­motes health­i­er, faster plant growth
New plant­i­ngs sta­bi­lize quick­ly to reduce trans­plant stress
Opti­mal root health results in stress-free plants with enhanced dis­ease resistance
Roots are self prun­ing thus elim­i­nat­ing pot bound roots
Health­i­er plants deliv­er incred­i­ble land­scape per­for­mance and beauty
Reduced Maintenance:
Reduces water­ing frequency
Elim­i­nates over and under watering
Reduces need for plant replacements
Retains fer­til­iz­er and plant nutri­tion to reduce fer­til­iz­er use and run-off
Media main­tains poros­i­ty and does not com­pact over time
Easy to mix with oth­er soils for enhanced performance