WaterGrip Products
Your plants are hungry for a WaterGrip™ Brownie…
Each Water­Grip prod­uct is com­prised of tra­di­tion­al organ­ic mix ingre­di­ents (coconut coir) com­bined with pro­pri­etary prop­er­ties to cre­ate its hydrophilic matrix of macro and micro pores with supe­ri­or water, air and nutri­ent hold­ing capac­i­ty. Water­Grip prod­ucts are infused with nutri­ents, hor­mones, and ben­e­fi­cial bac­te­ria for opti­mal root and plant pro­tec­tion and devel­op­ment. Water­Grip prod­ucts have a high cation exchange capac­i­ty which allows these ingre­di­ents to be held but read­i­ly avail­able to the roots. Water­Grip prod­ucts are very sta­ble and main­tain their poros­i­ty over time and exhib­it only the most minute, vir­tu­al­ly neg­li­gi­ble, com­paction or decom­po­si­tion over the long term. Water­Grip prod­ucts pro­mote rapid, opti­mal root pen­e­tra­tion to quick­ly sta­bi­lize plants, help them grow faster, and ensure long term plant health with a min­i­mum of care.
Vis­it About Water­Grip Media for more fea­tures and ben­e­fits of Water­Grip Grow­ing Media
WaterGrip Growing Media is offered in the following lightweight, easy to handle, formed shapes;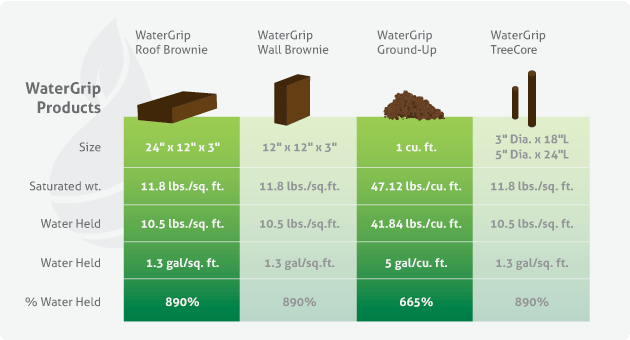 Water­Grip Grow­ing Media Brownies:
Water­Grip Brown­ies are 3" thick – are ide­al­ly suit­ed for green roofs or liv­ing green walls and also appro­pri­ate for land­scap­ing and plantscap­ing use.
Plants can be root­ed direct­ly into Water­Grip Brown­ie (ide­al for green roof or liv­ing green wall media)
Water­Grip Brown­ie can be also be used under­neath a plant­i­ng mix where roots will quick­ly seek the Water­Grip Brown­ie which acts as a water, air and fer­til­iz­er hold­ing sink tank (ide­al for land­scape and plantscape use).
Water­Grip Self-Irri­gat­ing Liv­ing Wall Sys­tem is an option for those desir­ing a turn key liv­ing green wall system
Water­Grip Grow­ing Media Ground-Up
The ground ver­sion of our sta­bi­lized media Brownies
For amend­ing soils and soil mix­es when supe­ri­or grow­ing per­for­mance and enhanced
resource man­age­ment is desired.
Ide­al­ly suit­ed for expan­sive land­scape use, com­mer­cial grow­ing, con­tain­er plant­i­ngs and beds.
Water­Grip Grow­ing Media TreeCore

Use TreeCore for trans­plant­i­ng and reju­ve­nat­ing exist­ing trees — reduces trans­plant stress. Our TreeCore eas­es instal­la­tion and reduces main­te­nance with no expen­sive equip­ment need­ed. It allows roots to grow into the site soil which allows the plants to accli­mate into its nat­ur­al sur­round­ings which lessens the depen­den­cy on oth­er inputs
Hydrophilic media enables enhanced water man­age­ment and reduced water use. Its excep­tion­al water hold­ing capac­i­ty enables more water to be held with rapid root­ing quick­ly sta­bi­liz­ing trees.
Ready access to water, air and nutri­ents sup­ports lush trees. A high Cation Exchange Capac­i­ty enhances nutri­ent avail­abil­i­ty. Increased trans­porta­tion of nutri­ents sup­ports health­i­er foliage which cap­tures sun­light and car­bon the fuels plant soil life.