Green Roofs
Rooftop plants thrive in a lighter weight media enabling superior stormwater management.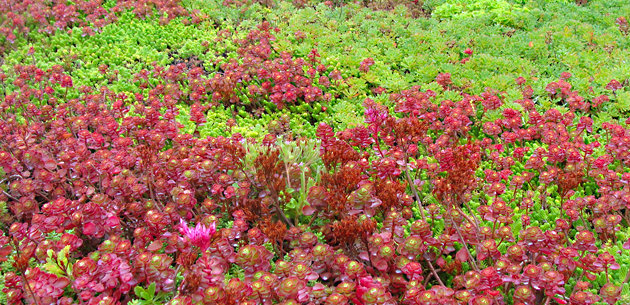 Green Roof Grown in WaterGrip
Benefits of WaterGrip™ Growing Media for your Green Roof
WaterGrip Growing Media enables superior plant performance while conserving precious water. Using WaterGrip is about growing more on your rooftop with less wasted water, less energy, less labor, with less time. No matter where you are planning a green roof – Chicago, Toronto, Washington, D.C., New York, San Francisco, or anywhere – WaterGrip is the solution for all green roofs.
WaterGrip™ Growing Media delivers a technological advance in green roofing media that will help to maximize the vast array of environmental, social and economic benefits a green roof can provide. WaterGrip Growing Media truly changes the paradigm for rooftop growing media – delivering a "true" growing media in which plants thrive rather than survive, while improving rooftop water management with a lighter weight green roof media solution.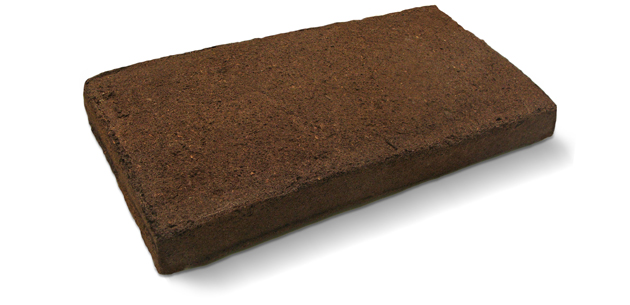 Lightweight Media Eases Installation, Reduces Roof Loads:
Easy-to-handle "brownies" deliver labor savings during installation
A fully saturated 3" thick Brownie weighs only 11.8 lbs./sq. ft.
Delivered ready-to-plant (or pre-planted)
Works equally well in Intensive and Extensive green roof systems
Easy to install — lay just like tile – ideal for sloped or retro-fit installations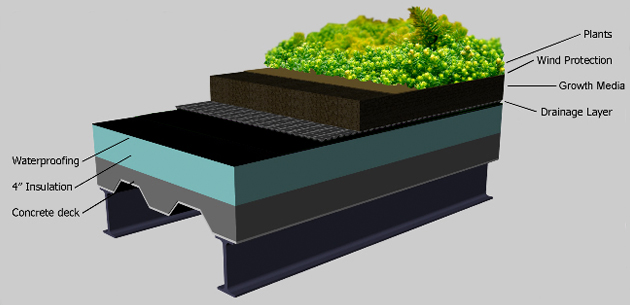 Rapid Absorption and Exceptional Water Holding Capacity provides Incomparable Rain Water Management:
WaterGrip Brownies hold up to 8x their dry weight in water – a 3" thick Brownie holds up to 1.3 gallons
of water per sq. ft. or the equivalent of ~2.4" of rainwater falling on its surface
Encapsulates fertlizers just as it does with water, serving as food storage reservoirs in the soil
Dramatically reduces, delays and filters storm run-off
Supports a broader palette of plant material
Maintains porosity so roots breathe even when media is fully saturated
Water flows through media when fully saturated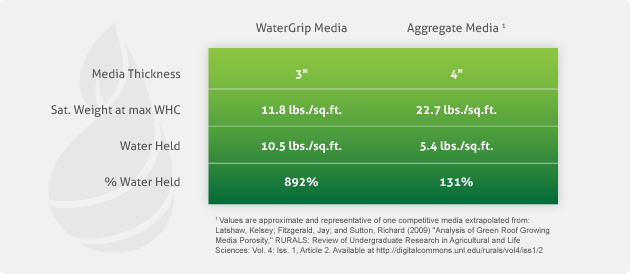 Advantages of a Superior Growing Media for Robust Rooftop Plantings:
Provides roots with ready access to water, air, and nutrients to reduce plant stress
High cation exchange capacity provides high nutrient and fertilizer holding
and availability and maintains this ability over time
Stabilized media maintains porosity over time and does not compact
Rapid and optimal root penetration ensures more plants survive initial planting
Robust growth speeds and improves roof coverage
Healthier plants reduce plant replacements and maintenance needs