Interior Plantscaping
Plants thrive with superior water management that reduces labor and plant replacements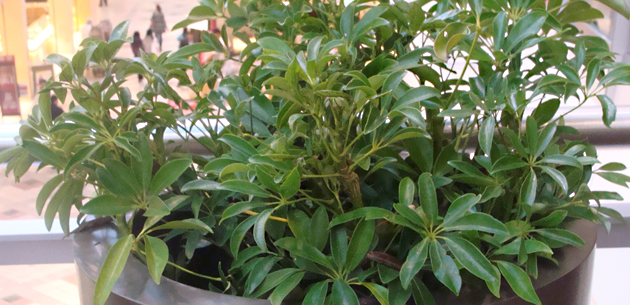 Benefits of Selecting WaterGrip™ Growing Media for your Interior Plantscaping Installations:
WaterGrip Growing Media Ground-Up provides you with the competitive edge your business desires, delivering product performance that delights your clients while reducing costly inputs. Use our Ground-Up product stand alone or as an amendment to your usual potting soils to improve performance.
Improved Water Management:
Superior capillary action promotes even water distribution
Exceptional water holding capacity maximizes use of water inputs and reduces runoff
Reduces watering frequency and overall water use to save labor
Maintains porosity even when fully saturated to avoid over watering
Provides excellent gas exchange which promotes healthy growth
Root respiration occurs when media is fully saturated.
Supports Robust, Healthier Plantings:
Roots have ready access to water, air and
infused nutrients
High cation exchange capacity retains and makes
nutrients readily available to reduce fertilizer needs
Rapid root growth and optimal penetration promotes healthier, faster plant growth
Optimal root health results in stress-free plants
w/ enhanced disease resistance
Roots are self pruning thus eliminating pot bound roots
Reduced Maintenance Costs:
Significantly reduces watering frequency
Eliminates over and under watering
Healthy plants reduce plant rotations and replacements
Retains fertilizer and plant nutrition longer
Easy to mix with other soils for enhanced soil performance